The Ottawa Regional Cancer Foundation needed to simplify its data to better reach its supporters
THE CHALLENGE
The Ottawa Regional Cancer Foundation (OCRF) has an important mission — increasing cancer survivorship in Eastern Ontario. The group supports care and research to prevent, detect, diagnose and cure cancer.
Many of OCRF's supporters are highly active and engaged — they want to know their contributions make difference. Targeting those supporters with variable-printing mailings that match different interest and donation levels, though, "was getting a little too complicated," says Tracy Holmes, manager of OCRF's Annual Fund.
Holmes is responsible for handling the organization's direct mail efforts. "The idea is to feed and nurture our giving pipeline creatively and efficiently so that we increase total fundraising," she says. "We believe in the power of direct mail to help us accomplish that."
To that end, OCRF divides its mailing targets into segments such as major givers (more than $10,000 annually), Cancer Champions Circle ($1,000 to $9,999 annually), planned givers (donations through wills, trusts, etc.), active one-time donors, lapsed donors (no activity for three years) and more.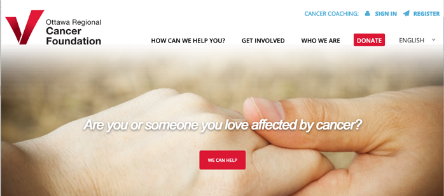 OCRF's top challenges
Some individuals were included in multiple segments, and it was time-consuming and error-prone for OCRF to manually identify those duplicates.
Many of the organization's mailings needed to be personalized but were produced on offset instead of digital print devices.
The not-for-profit wanted to work a single point of contact that could handle data services, printing and mailing while also providing superior customer service.
THE SOLUTION
BMR has a long history of providing organizations like OCRF with full-service mailing capabilities that help not-for-profits get more tactical and targeted.
OCRF wanted to put those capabilities to work. Holmes discussed the group's different segments with the BMR team, and both organizations collaborated on ways to create and deliver mailings that more recipients noticed and acted upon.
BMR solved the duplication issue using its merge/purge software, helped OCRF simplify the way it organized its target lists and also moved some mailings to short-run digital print production for improved mail personalization.
"We learned very quickly that BMR has been doing full-service mailing programs for years and years," Holmes says. "I look at them as the pros. They save us so much time and resources because they handle data so easily."
THE RESULTS
The best direct mail solutions require listening and understanding — a partner who understands unique challenges before suggesting ways to solve them.
"We no longer have to de-dupe records ourselves, and now have a simplified, more effective approach to our regular mailing programs," Holmes says. "We also don't have to use multiple vendors to get the job done."
She says it's getting harder to get people to give money to not-for-profits these days, so the more personal your communications, the better. "BMR is very thoughtful about how to make an impact on our goals. The combination of their expertise, printing and mailing capabilities are second to none."